From the cost of gas to the price of airline tickets, inflation is headlining almost every economic category. After a long period of record low interest rates, home purchases (and refinancings) have reached a record high. For homeowners, inflation is a welcome driver of price appreciation — the more prices increase, the more equity value is created. For buyers, this may mean higher purchase prices, particularly in supply constrained markets.
With continued government stimulus efforts and a resurgence of economic activity, are we headed for an inflationary cycle? And what does this mean for the real estate market? With the increase in raw materials, consumers are paying more for construction, labor and general goods than the year prior. Housing prices continue to soar, which, combined with low purchase inventory, is also driving people out of traditionally-hot urban markets in favor of lower-priced suburban markets. Let's dive in further.
Rising raw material costs are passed onto the consumer, as evidenced by an uptick in prices across a number of industries
Among other driving factors, the rise in consumer prices stems from supply chain changes driven by a snapback in overall economic activity.
Home prices have historically outpaced inflation by 1–2% a year, leading to meaningful increases in equity for homeowners
After 10 years, $600k+ of equity value has been generated, of which $200k is supplementary to basic market inflation.
Since the beginning of the pandemic, residential sales prices have soared, while rents have remained flat
With home equity increasing, many homeowners who monetize their equity will have an additional source of income to spend on goods, which may further the inflationary cycle.
Purchase transactions are declining due to record–low inventory while prices are rising quickly
With a 14% annual appreciation run-rate and a buying frenzy amid supply scarcity, rising interest rates are one of the few levers that may slow down this purchase velocity.
Although rents fell precipitously this time last year, a rebound driven by changes to pandemic era forgiveness could send them upward
When rents rise, businesses tend to raise prices and wages increase in parallel, creating more inflationary pressure on the general housing market.
In Los Angeles and San Francisco, home prices are rising across all tiers, with the lower tranche of the market leading the way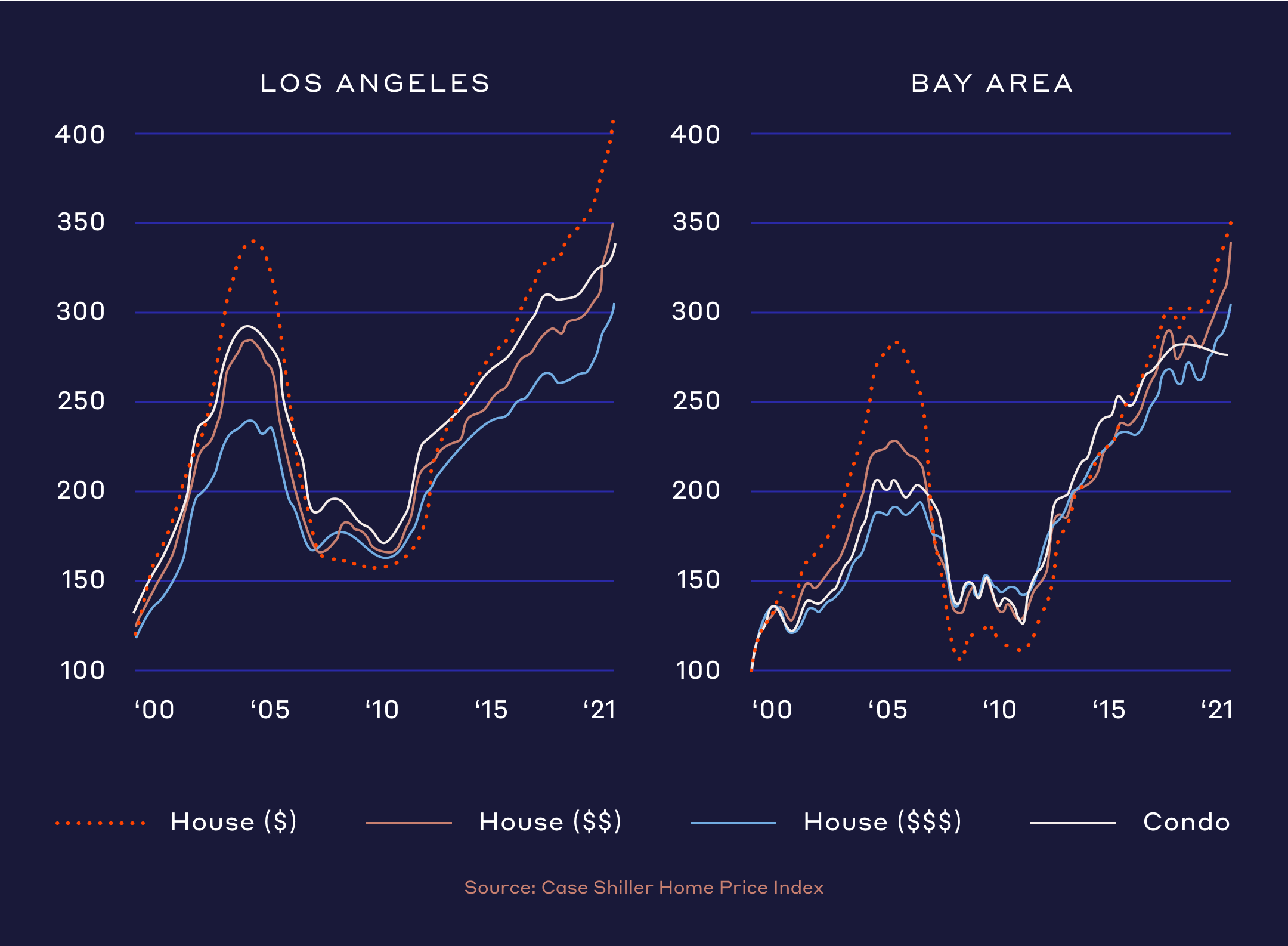 In LA, lower priced homes are leading the charge on price growth, similar to the period prior to the 2007 collapse. In the Bay Area, condos remain the outlier, falling year over year to below 2018 levels.
What is the impact of rising home prices across the board?A population decline combined with a housing boom
The cities with the most growth in housing units also experienced the largest outflows of residents. Restrictive zoning and low supply are keeping absolute prices high despite new multi-family units being built.
Putting these trends in perspective: rising lumber costs make home construction exponentially more expensive
$50,000 worth of lumber can build 2 average sized homes today, compared to 10 homes 1 year ago.
All eyes are on the Fed to see how interest rates might change in the near term. As the markets continue to fluctuate, we'll report back on the impact of this market volatility on the housing market in next month's edition of The 8.